10 Best E-commerce Email Marketing Strategies You Should Start Using Now
By Neil Patel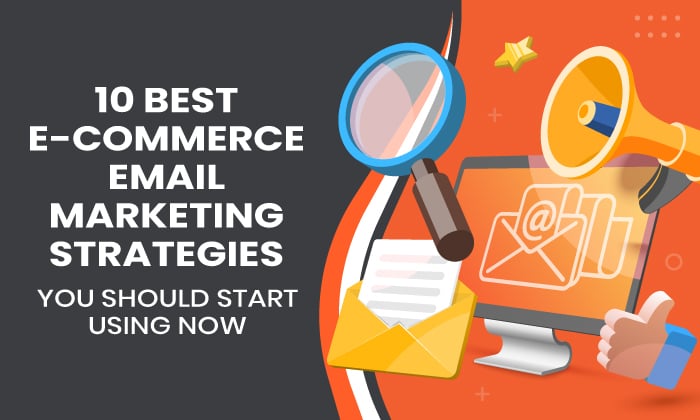 There are plenty of e-commerce marketing channels available to grow your business, such as social media, PPC, SEO, and network marketing.
Successful e-commerce business owners, though, know that email marketing is one of the most profitable channels available.
Let's take a look at "what is e-commerce email marketing?" and why e-commerce businesses should use it.
Finally, we'll delve into the 10 best e-commerce email marketing strategies that you can implement immediately for great results.
What Is E-Commerce Email Marketing?
E-commerce email marketing is a marketing channel that enables you to send marketing messages to current and potential customers.
The strategies you use can be simple, like sending a weekly email blast with featured products, or complex—with multiple automated email series for cart abandonment, customer re-engagement, and exclusive membership deals.
Either way, the ultimate goal is to increase customer engagement and drive conversions.
Why Should E-Commerce Businesses Do Email Marketing?
As an e-commerce business owner, you've probably heard the sales pitch for just about every marketing channel there is.
You may even dabble in email marketing currently, but perhaps you don't understand just how valuable a tool it is to your sales strategy.
Email marketing is a unique process in that, unlike social media or SEO, you own every piece of the funnel. Most importantly, you own the email subscriber list.
Why is that so important? With 4 billion daily email users (which will climb to 4.6 billion by 2025), you can't afford to miss this incredible opportunity.
Through email marketing strategies, an e-commerce business can benefit from brand awareness, customer engagement, and high-intent customers. We also can't ignore the conversion rate boosts that e-commerce businesses see when they implement a solid email marketing strategy, with the best ROI when compared to other marketing channels.
With an average of $36 earned for every $1 spent, that's a whopping 3,600 percent ROI!
How to Do Email Marketing
While much of this article will focus on email marketing strategies for active marketers, we understand that not every e-commerce business is yet set up for email marketing.
If that's you and you are completely brand new to email marketing, here are the steps you should take first:
Set realistic and sustainable goals to grow your business, such as building an email list or improving customer retention by X percent.
Select an email marketing software like MailChimp or Constant Contact.
Map out your initial campaigns (e.g., welcome series, abandoned cart series, or new product launches.)
Decide how you'll collect email addresses. Many e-commerce companies offer a small coupon in exchange for email addresses.
Set up landing pages as needed for campaigns.
Set up campaign tracking with your chosen analytics provider.
Take the time to establish a firm foundation and you'll be off to a better start than even many seasoned e-commerce businesses.
Best E-Commerce Email Marketing Strategies
Whether you're new to email marketing or you're looking to optimize your current setup, our best e-commerce email marketing strategies will provide you with a solid foundation to build your …read more
Source:: Kiss Metrics Blog