10 Content Marketing Trends for 2021 and Beyond
By Neil Patel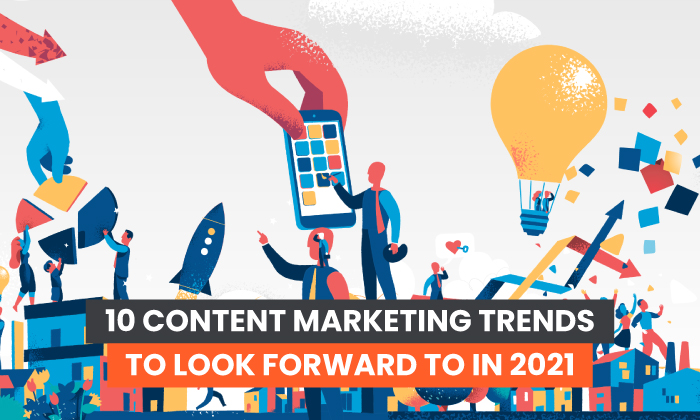 Organizations that have made consistent and sound investments in content marketing have reported those investments paying dividends in recent years.
However, to maintain their growth, marketers must also stay tuned into the ever-changing content marketing landscape.
What worked last year may not be enough to creep ahead in 2021.

Being able to anticipate trends and changes in audience behavior based on technology trends and updates can help you adjust your strategy and get ahead of the wave.
Here, we'll detail some trends to keep an eye on in 2021, but before we do, let's look at why content marketing keeps evolving.
Why Does Content Marketing Change so Frequently?
Content marketing continues to evolve to keep pace with trends, technologies, and consumer demands. For instance, increasing use of mobile devices, voice search, and social media all require us to stay on top of things.
Then there are the platforms themselves that change. Established sites like Facebook have started to attract an older demographic, while newer platforms like TikTok appeal to a younger audience.
To reach their audiences effectively, content marketers must adapt their strategies to meet these changing trends.
10 Current Trends in Content Marketing
More recently, adaptability and flexibility have been central to content marketing. However, many of the preferred marketing methods remain the same.
Although many current content marketing trends are a continuation or evolution of existing ones, some trends are gaining considerable ground.
1. Building Communities
With as many as 24 million e-commerce stores out there, you need to find a way of getting noticed.
You achieve that in such a crowded space by developing a community.
Community marketing isn't about getting a quick sale—it's about engaging with customers while building trust and loyalty and reaching a wider audience.
The Dollar Shave Club (DSC) is an excellent example of this. DSC works on a subscription basis and considers all of its members a part of the community.
In addition to its social media presence and a blog to engage with customers, DSC features members in its monthly newsletter and ensures its subscribers are at the heart of the business.
Then there's ProBlogger.
You might know ProBlogger from its jobs board or its blog. However, its community side is a considerable part of the brand too. The community gives new and established bloggers the chance to come together and learn and collaborate.
It also offers:
networking opportunities
webinars
discounted books, tools, and events
community downloads
2. Optimizing Content for Niche, Long Tail Keywords
For a long time, the focus for marketers was long-form content. However, more recently, content marketing has stepped back from detailed, lengthy article guides. Instead, the use of niche, long-tail keywords is becoming more prevalent, as long-tail keywords are more specific and have less competition.
Further, using long-tail keywords makes it easier to get your content ranked on …read more
Source:: Kiss Metrics Blog