13 Tried-and-True Lead Generation Ideas (And the Numbers Behind Them)
By josh@tryinteract.com (Josh Haynam)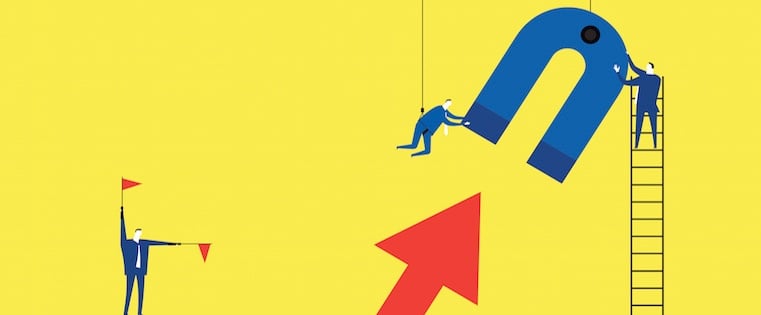 Filling the top of your sales funnel with leads is tough — especially when you're relying on traditional methods. Sending cold emails and scraping together lists can be incredibly demoralizing, right? Most of those people don't really want to talk to you … and they can be pretty hostile about it.
So what if I told you that you could still reach your leads quota using methods that actually add value to your prospect's day?
This utopia of lead generation is, in fact, a possibility. To walk you through some of the different options, I've detailed 13 examples of modern lead generation methods below. And to prove they actually work, I spent some time reaching out to the companies to learn more about the results of each initiative.
Intrigued? Keep reading.
13 Lead Generation Ideas Everyone Will Enjoy
1) Collect and share success secrets from thought leaders.
Want to provide unique value in your content? Start by reaching out to a thought leader in your industry. By interviewing an expert to uncover their secrets, you're proving to your potential customers that you're dedicated to delivering the best advice that's out there.
Below you'll see Groove's take on this approach through their interview with the CEO of Olark. The folks at Groove frequently interview successful founders and ask really specific questions that everyone can learn from. They then share those interviews with their potential audience on their blog.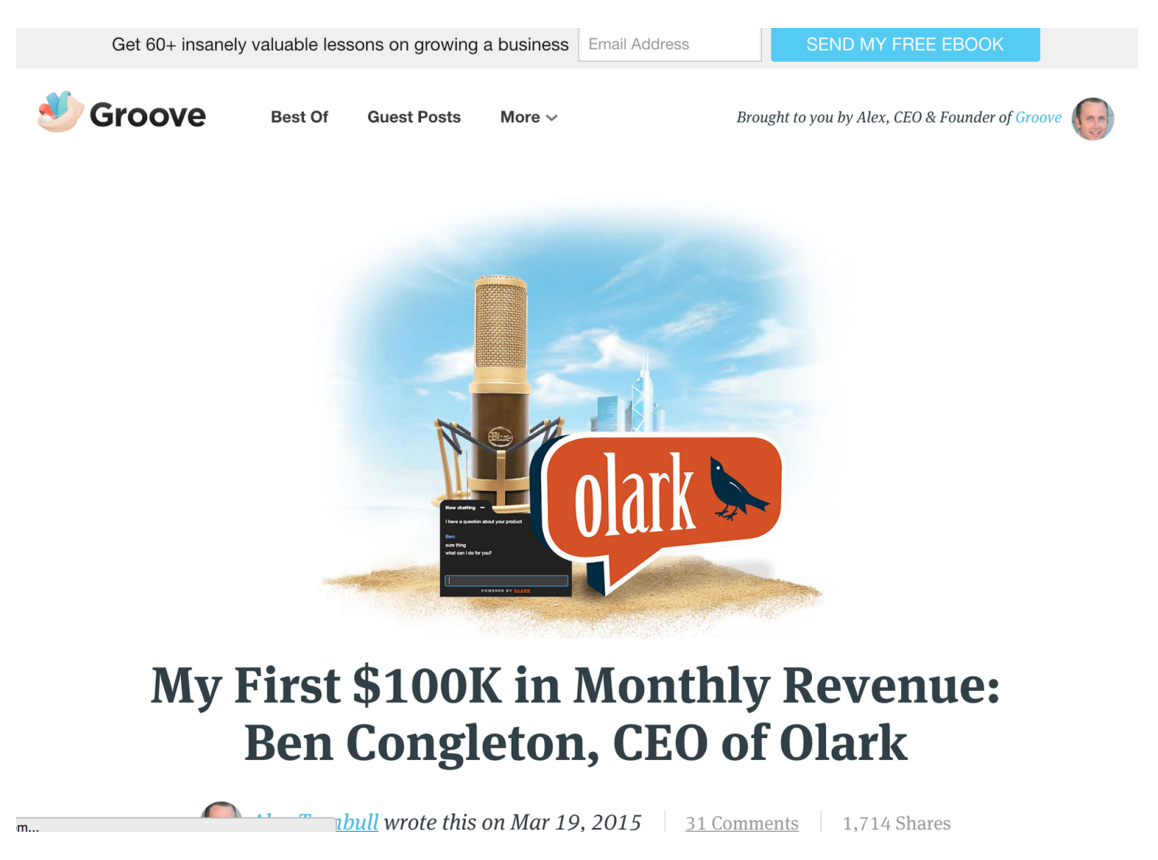 "It's impossible to understate how much I've learned from mentors, advisors, and others smarter and more experienced than myself throughout my career. Getting expert perspectives — culminations of lifetimes of experience solving the same problems I might be struggling with at any moment — has helped me bust through obstacles faster than any test or hack I've ever tried. Interviewing experts for the blog is our way of sharing that same experience and insight with our audience," explains Groove's Alex Turnbull.
The results: 38K unique visitors, 1,210 subscribers, and around 54 trial signups
2) Make awesome Help videos solving a real issue for prospects.
Help videos can solve a real problem for potential customers in a format that's both entertaining and easily digestible.
A video hosting and analytics company, Wistia, has a whole series of help videos for companies that want to start shooting their own videos, and they've compiled all of those videos into a super useful learning center.
"Since we're a video hosting platform, product-centric content would only apply to people who are already creating videos. The Wistia Library videos and written guides are a way for us to create value for people who may not have even gotten started with video yet. We want to offer a useful educational experience for everyone, at every experience level," explains Wistia's Alyce Currier.
"The downloadable resources aren't just a way for us to gather leads — they're a way to help people learn by doing by giving them the tools they need to get started right away. We believe that the lessons are much more likely to stick if the reader/viewer gives something a try right after they consume the content."
The results: 15.5k video plays and 3,946 leads
3) Create a quiz.
Offering up a quiz to your website visitors serves as a creative, alternative way to learn more about them and obtain their contact information. The goal is to "bargain" the result of the quiz in return for a new lead, which can be very effective when done right.
A great example of this comes from Eastern International College. They created the following quiz to help students make a proper major selection.
"I do not believe in forcing marketing messages on anyone. I found the best, clearest place on our website, and a nice slogan 'Take this short quiz to find out which program is right for you!' This way, it is fully up to the website visitor whether or not they want to participate. If using the quiz for lead collection, be sure to inform the quiz taker (on the contact information form page) that there may be contact from your office if they submit their information," explains EIC's Karen Walters.
The results: 1,000 leads and growing
4) Provide best practices for a challenging tactic.
When you explore a new marketing tactic, you want to know what others are doing to have success with the same method. Compiling those best practices into a list is incredibly useful to the marketer looking to get started in a particular arena.
For example, Vero created a comprehensive list of best practices for email marketing, which aims to help their target audience make more money through email marketing.
"I decided to write that post after my keyword research revealed a serious gap. Nearly every post that ranked well for 'email marketing best practices' was a link roundup or category page. Nothing truly satisfied the need for best practices on the topic. So I went to work collecting the best email tips I could find and was thrilled that the post gained traction so quickly. In short, I came across a problem and solved it," explains Vero's Jimmy Daly.
The results: 90,000 page views and 1,500 email addresses (over the last 53 weeks)
5) Show what's working for you.
Writing a transparent post that pulls back the curtain on something you've seen success (or failure) with can prove to be really interesting to potential leads. Other companies going through a similar stage of growth — or approaching your size — can gain a lot of inspiration from posts like this, and ultimately avoid making the same mistakes.
Check out this report from LeadFuze below. In an effort to provide an insightful resource, they created this analysis of what worked (and didn't work) for them each month.
"Our revenue reports help us get business from ideal customers because it shows that we can be trusted. We are putting it all out there, and so people's guards are lowered and they feel less suspicious," explains LeadFuze's Justin McGill.
The results: 1,000 views, nine sales leads, one new paying customer and counting
6) Create a useful spreadsheet.
Compiling a spreadsheet of resources takes forever … so if someone else does it for you, it's easy to see the value.
Heinz Marketing created a referenceable spreadsheet out of a really awesome infographic (a map of the marketing technology landscape) and made it available in return for an opt-in.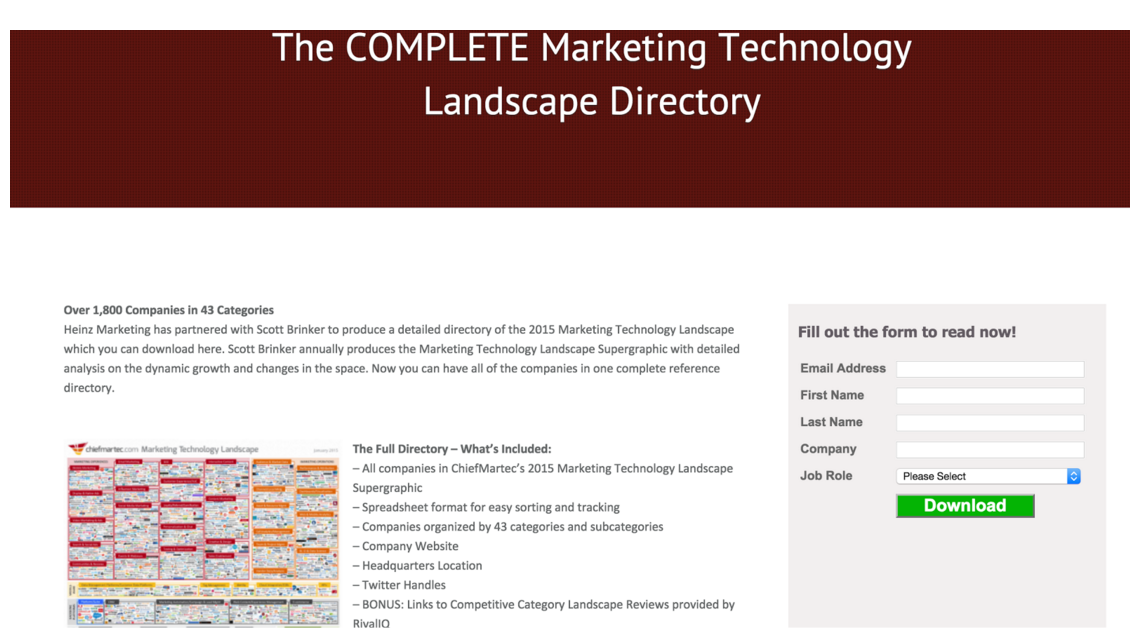 "Prioritizing the creation of this was simple. I knew it had tremendous value; that people would want it. For relatively little effort I could create something that both delivered on that value plus helped me begin new, potential relationships to benefit both parties into the future. It was a win-win," insists Heinz Marketing's Matt Heinz.
The results: 1,377 downloads (continuing to grow by 20-30 downloads per day)
7) Offer a deep-dive answer for a tough question.
You can find the answer to pretty much any question you can dream up on the internet. But how many really good answers are out there? Taking the time to create an in-depth, step-by-step article that answers a burning question for your prospect serves as an opportunity to generate a lead. After all, the company that provides the best answer will often get your business, right?
A great example of this method in action comes from the folks at Interact. In an effort to explain how to make quizzes, Interact created the following in-depth blog post which dives into heavy detail on how it's done.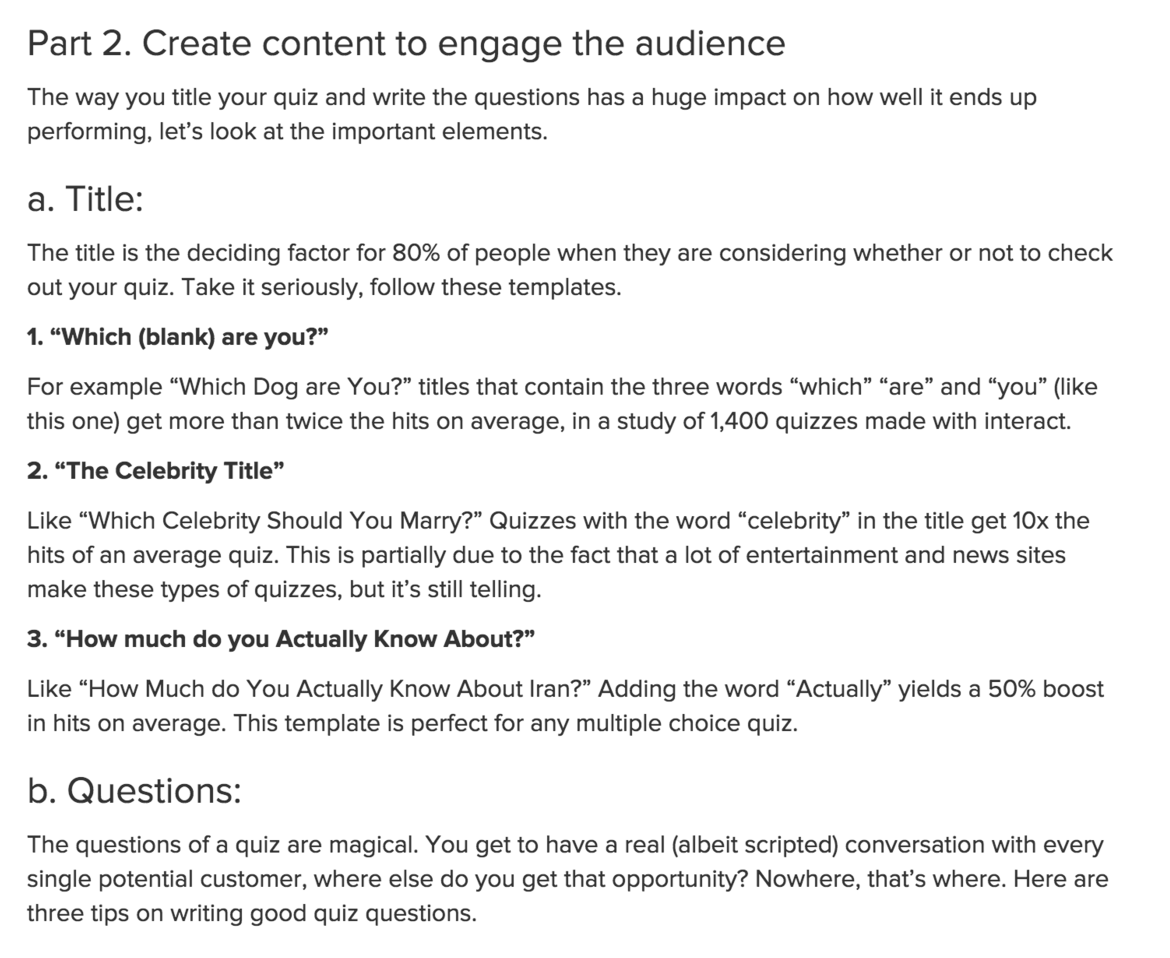 "We like to create content that helps marketers look good in front of their team. For example, with this post, we know that a lot of marketing teams are looking to get into quizzes right now, but there are lots of technical details associated with creating quizzes. We built a guide that arms the reader and makes them look super smart. Sometimes they return the favor by opting in for our product, " explains Interact's Micah Larsson.
The results: 1,100 leads and counting
8) Create a worksheet that simplifies a complicated process.
There are tasks in every business that are best suited by a worksheet. For example, a software company might use a worksheet to formulate a marketing strategy.
By providing a simple worksheet for people to fill out — and trading that worksheet for an opt-in — you can create a mutually positive relationship with prospects.
A great example of this comes from WP Curve. They created a template for reviewing your website's design that's focused on conversion optimization. You can take a look at how they did it below.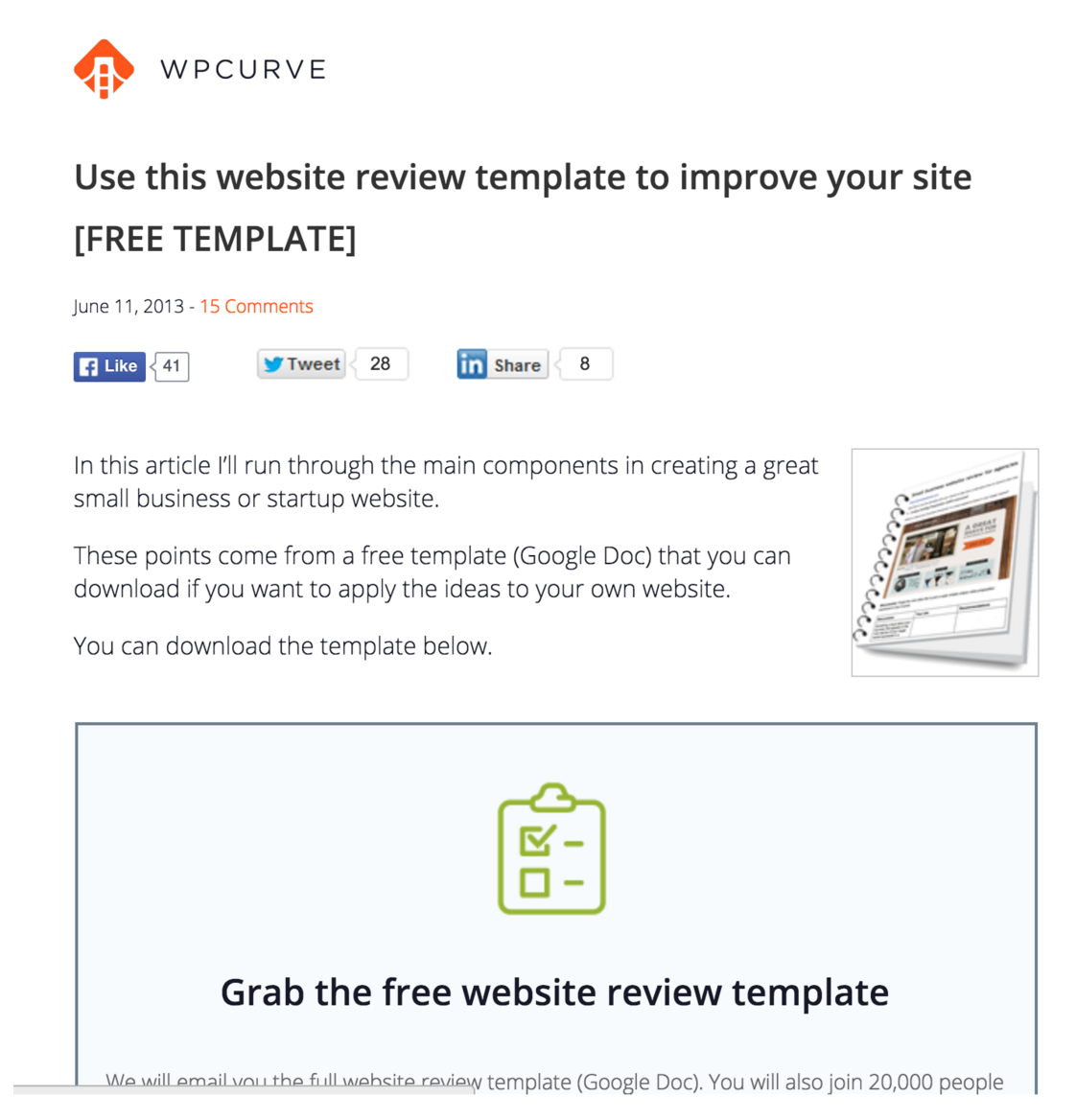 "Every time we ask people to sign up for our newsletter we get no conversions. If we create a long detailed, useful post about a particularly topic and add a valuable, related opt-in offer, it converts very well," explains WP Curve's Dan Norris.
The results: 8,160 views and 1,018 email opt-ins
9) Create a list of useful tools.
It's easy to brag about the tools your company offers, but when you take the initiative and explore other helpful tools your audience could be using, it proves that you prioritize their success over your self-promotion.
In return, you are also attracting the kind of audience that is looking for solutions like yours, which could drive leads. Below you'll find a great example of this in action from Socedo.
"We recognized that many of our most successful customers at Socedo have landing pages built to capture leads. We also noticed that tools list posts perform well for us. Combining those ideas, our plan was to provide value to our ideal audience, in a way that was still relevant to Socedo," explains Socedo's Aseem Badshah.
"We drove high traffic to our own landing page, and by including positive mentions of other brands in the post, we were able to capitalize on their promotion as well."
The results: Three direct product signups
10) Compile examples for people to learn from.
Finding effective examples to learn from can be extremely valuable, but also very difficult. Compiling a list of best practices in your industry is an excellent way to drive prospects to your domain where they can opt-in.
Kapost put together "The Top 50 Content Marketers" as a resource to enable their sales to have more contextual conversations, while inspiring their visitors to opt-in.
"Marketers are hungry for examples of brands doing marketing content right, and the Kapost 50 calls out specific examples of excellent, strategic content year after year," explains Kapost's Anne Murphy.
"It's a traffic and lead driver, but more than that, it provides opportunities for our sales team to engage current prospects with content examples from related industries and for customer success to share content wins with customers. Especially in B2B marketing, content should support each stage of the sales cycle from awareness to lead to close to advocacy, and the Kapost 50 does exactly that."
The results: 1,042 leads and counting
11) Create a valuable email course.
A well-developed email course is like gaining access to a real class … for free. For busy marketers, this type of offer can prove to be really valuable.
This approach tends to work well for in-depth topics that really should be learned in a class-like environment. Check out the course from Buffer below. They give away 25 social media strategies in 25 days in exchange for an opt-in.
"Initially with our courses, we were looking for a way to repackage the content from our blog posts into more digestible bits. Taking a 2,500-word blog post and breaking down into a weeklong email series felt like a fun experiment to try! With the 25-day course, we realized there were a number of posts on the blog that all touched on specific, actionable tips — and this was some of the most common feedback we received after our initial courses in terms of what content people might like next," explains Buffer's Kevan Lee.
The results: 22,057 leads and counting
12) Host a giveaway.
Giveaways are one of the most successful forms of lead generation. However, a giveaway can lead to a bunch of junk leads and waste your time if not done in a logical way.
The trick? Make sure what you're giving away something people actually want. For example, Ninja Outreach put together a giveaway of several software products that are super useful to their target demographic.
"The reason we do this is to generate opt-ins to the newsletter, so it's a form of lead generation. Everyone who doesn't win is a potential customer down the line. As people are sharing the giveaway they are inherently promoting the product . . . People are always so happy when they win, and often send us thank you emails," explains Ninja Outreach's Dave Schneider.
13) Create a template to simplify an everyday process.
There are certain templates you use everyday in business — employee schedule, content calendar, market research sheets, etc. These can be a pain to build for yourself.
As a marketer looking for lead generation ideas, creating those templates for your customers is the perfect way to begin a strong relationship that can end in the prospect actually paying for your product or service.
Need inspiration? Check out the employee scheduling Excel template from When I Work below.
"Our ultimate goal is make scheduling easier for small businesses. We know that 90% of businesses use excel for scheduling so we figured we should create templates and tools to help make their current scheduling process easier . . . Our excel templates get our brand in front of potential customers without much time investment/habit change and allow us to soft sell to them for months to come," explains When I Work's Sujan Patel.
The results: Nearly 2,000 new leads a month (45K in total)
Have you experimented with any of these methods? What tactics have you found to be effective? Share your thoughts in the comments section below.