16 of the Best Motivational Speeches of All Time
By edevaney@hubspot.com (Erik Devaney)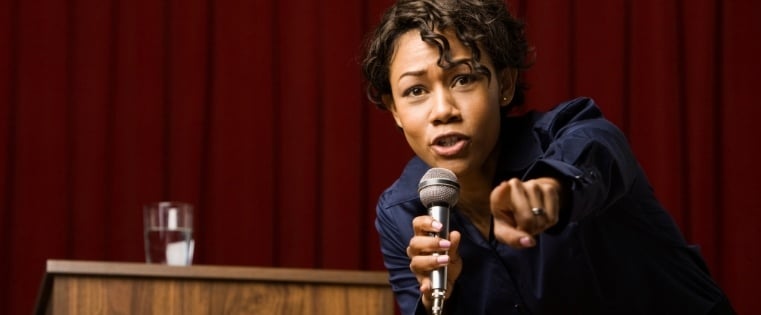 Let's face reality: It's hard, if not impossible, to feel motivated all the time.
Some days you just want to put your feet up, eat buffalo chicken nachos, and watch Netflix — and not even good Netflix, but some crappy movie that you're only watching because you've given up on being productive and are complicit in filling your brain with dim-witted, mind-numbing entertainment. But hey, sometimes that's what it takes to recharge your batteries. A nice little brain vacation.
Of course, when you've got a deadline looming, or a big presentation coming up, and your coworkers (and/or customers) are depending on you, taking a brain vacation isn't really an option. In such cases, when you can't afford to lollygag, you need to be able to silence your inner couch potato and get your head in the game. You need to be able to dig down deep, find your inner strength, give 110%, and … look, I'll admit it: Motivational speeches aren't really my thing.
So in lieu of writing you one, I've found 16 of the greatest motivational speeches from across the worlds of business, sports, entertainment, and more. And while the messages vary greatly from speech to speech, they can all help you get in the right frame of mind for tackling your next big challenge.
(Warning: Some speeches — *cough* Al Pacino *cough* — may contain NSFW language.)
16 of the Best Motivational Speeches
1) J.K. Rowling: "The Fringe Benefits of Failure, and the Importance of Imagination" (2008)
In J.K. Rowling's 2008 Harvard commencement speech, the Harry Potter author explored how two phenomena — failure and imagination — can be crucial to success. While failure can help you understand where your true passion lies, and where you should focus your energy moving forward, imagination is what will allow you to empathize with other people so you can use your influence to do good.
We do not need magic to change the world, we carry all the power we need inside ourselves already: we have the power to imagine better."
2) David Foster Wallace: "This Is Water" (2005)
From the opening minutes of David Foster Wallace's 2005 Kenyon College commencement speech, in which he questions commencement speech conventions, it's clear that Wallace has some serious wisdom to share. The crux of his speech: Many of us are oblivious to our own close-mindedness. We picture ourselves as the centers of our own, individual universes, instead of seeing the bigger, more interconnected picture.

If you're automatically sure that you know what reality is and who and what is really important, if you want to operate on your default setting, then you, like me, probably won't consider possibilities that aren't annoying and miserable. But if you've really learned how to think, how to pay attention, then you'll know you have other options. It will actually be within your power …read more

Source:: HubSpot Blog