24 Awesome Facebook, LinkedIn, Twitter, Instagram & Pinterest Features You Didn't Know Existed
By lkolowich@hubspot.com (Lindsay Kolowich)
Social media networks are continuously adding cool little features here and there, and it can be tough to keep up — especially if there's no big announcement.
For instance, did you know you can add life events and milestones to your personal and business Pages on Facebook? That you can remove certain users' tweets from your Twitter feed without having to officially unfollow them? That you can add hidden relationship notes to your LinkedIn connections? (That one's my favorite.)
There are so many cool things our favorite social networks can do that may have fallen through the cracks. To help you discover these hidden treasures, we rounded up 20 of the lesser-known features on Facebook, Twitter, LinkedIn, Instagram, and Pinterest. Check 'em out.
Hidden Facebook Features
1) Publish a life event or milestone.
Get a new job? A new pet? A new roommate? Now, there's a way to tell the world about some of your major life updates by adding a Life Event to your timeline.
To add a Life Event: All you have to do is go to your personal Facebook Page and click "Life Event" to the right of "Status" in the status update box.
As you can see, these can get really specific. Once you click into a category, you can add details like a title, dates, people you were with, and photos. Like a normal status update or photo, you can choose to share it with friends, specific groups or people, or the world.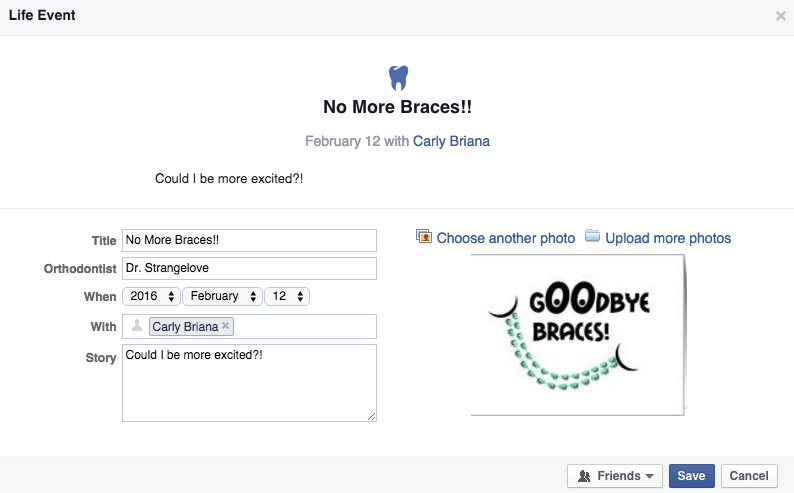 For businesses, Facebook lets you add what they call Milestones, which can be anything: receiving a round of funding, reaching a certain number of employees … you name it.
To add a Milestone: Simply choose "Offer, Event +" to the right of "Status" in the status update box.
2) Save links for later.
Ever seen articles in your News Feed you wished you could bookmark for later? Well, you can. Facebook recently added a feature that allows users to save links to articles, events, TV shows, music, and more to read later. All you have to do is click that little downward arrow on the top right-hand corner of the article in your Feed, then choose the "Save" option.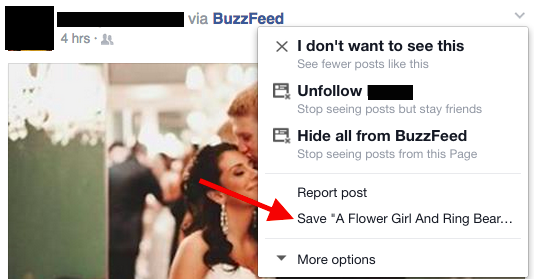 To view the things you've saved, go to your home page and choose "Saved" in the left-hand column. (Or go straight to https://www.facebook.com/saved/.)
3) "Unfollow" people or pages so you never see their posts.
Do you have that one person — or couple of people — whose Facebook posts just drive you …read more
Source:: HubSpot Blog