5 Privacy Policy Generator Options For Your Website
By Neil Patel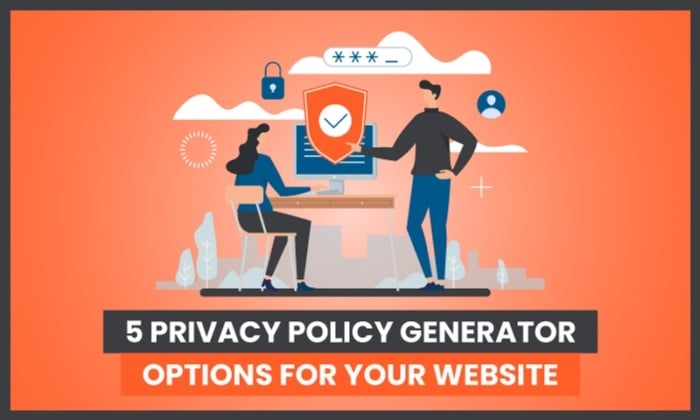 If you collect information from your website visitors, you may be required by law to post a privacy policy on your website.
While not every country has privacy policy requirements, many auxiliary laws make the addition of a privacy policy necessary for compliance. Plus, if you want your website to be visible to a global audience, you need to adhere to global guidelines.
Additionally, many third-party applications require privacy policies to use their services. Examples of this include Google Analytics, Google Play, Apple App Store, and Google AdSense.

The last thing you want is to be taken to court by a website visitor over something as simple as a privacy policy.
So, how do you create a privacy policy?
Luckily, there are many online privacy policy generators you can use to help keep your site compliant.
In this post, we'll show you how to find, use, and implement your privacy policy with a privacy policy generator.
What Is a Privacy Policy?
A privacy policy is a legal document telling website users if, how, and why you collect and store their personal information.
Personal information can be anything used to identify an individual, such as their name, date of birth, address, credit information, or online behaviors. The exact definition may vary between countries and laws, so be sure to research what requirements you need to meet before using a privacy policy generator.
A strong privacy policy should be informative and precise, without hidden clauses or confusing language. It should also include contact information in case your users need more information.
A privacy policy should include:
what information you collect from website visitors
how and why you obtain this information
details about how you store the data you collect
how and when you'll inform users if your privacy policy is updated
to whom you give access to the information collected (third party applications, newsletter services, analytics software, etc.)
Not only are privacy policies mandated in most countries, but they're also a great way to build trust by keeping your marketing tactics transparent. Even if you're not required to have one, it's a good idea to do so anyway.
Here is an example of our privacy policy.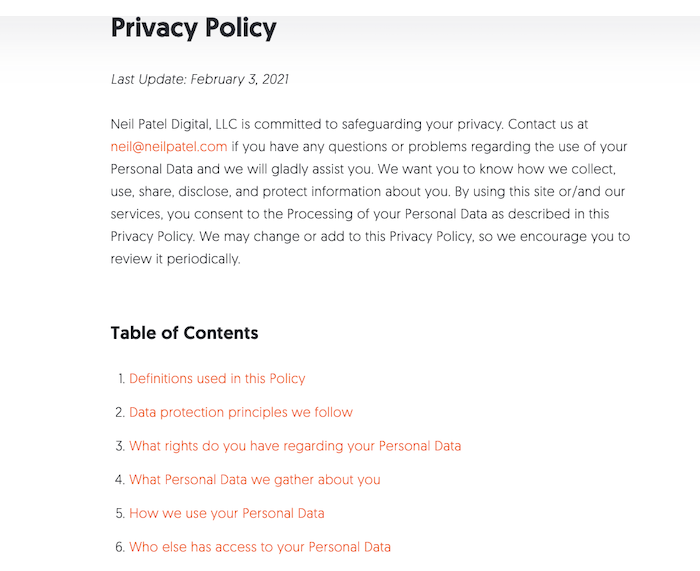 4 Reasons Why Your Website Needs a Privacy Policy
Regardless of whether you operate on a desktop, mobile app, or website, you need to have accurate and honest privacy policies in place to guide your users.
Here are the four most important reasons why your website needs a privacy policy.
1. Privacy Policies Are Often Required by Law
Many countries mandate privacy policies be available to help citizens understand their information rights.
In the United States, the Children's Online Privacy Protection Act (COPPA) requires all websites that collect information from children to …read more
Source:: Kiss Metrics Blog