8 Brilliant Content Marketing Examples to Take Your Company Out of the Unknown
By Neil Patel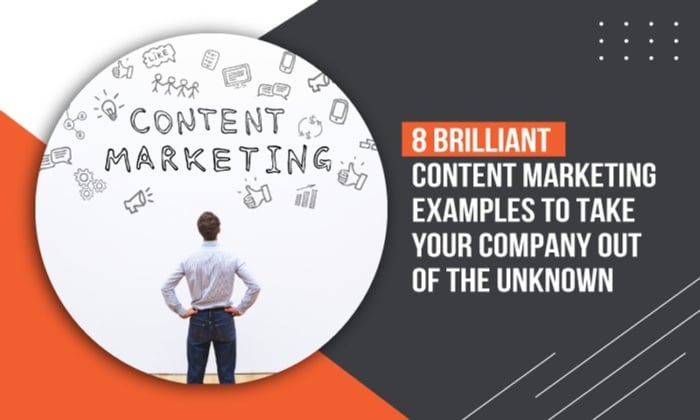 If you want to grow your brand, you need a content marketing plan. Why?
Seventy-eight percent of companies that produce effective content have a documented marketing strategy.
That said, there's no use in creating content if it won't help you achieve your marketing goals. Instead, you need to know how to recognize great content.
To help ensure your brand doesn't fade into the background, let me walk you through eight great content marketing examples you can learn from.
What Is Content Marketing?
Content marketing is content created and shared for a specific commercial purpose, such as gaining website traffic, increasing brand awareness, or influencing people to buy your products.
A recent survey taken by professional content marketers found the following:
88 percent of content marketers say content marketing is effective for branding.
88 percent of marketers say content marketing is effective at building brand trust.
80 percent said content marketing works to educate audiences.
72 percent said content marketing is effective for lead generation.
The survey respondents said other effective uses of content marketing are driving audiences to events, building loyalty with existing customers, supporting the launch of a new product, and building subscriber lists.
"Content" has a wide definition, including podcasts, eBooks, infographics, and blog articles. Essentially, if it's a form of media designed to acquire and influence an audience.
How do you know what makes "great" content? One of the best ways to learn content marketing is by looking at real content marketing strategy examples.
My step-by-step guide breaks down content marketing in detail.
8 Content Marketing Examples
While these content marketing examples are all unique, they have something in common: a clear purpose.
Bear that in mind as you read through these examples and you'll better appreciate how to create successful content.
Without further ado, here's a look at some amazing content marketing strategy examples.
1. MoonPie: Brand Voice
Content marketing is all about standing out from the crowd. One way to do this is by developing a memorable brand voice.
Why does voice matter?
According to Sprout Social's research, 33 percent of customers say a distinct personality helps a company stand out on social media, and 46 percent appreciate brands who engage their audiences, so developing your voice is worth a shot.
MoonPie's Twitter feed is a great example of a content marketing strategy. Not only does every Tweet have a clear purpose, but the brand uses a consistently fun tone to encourage engagement: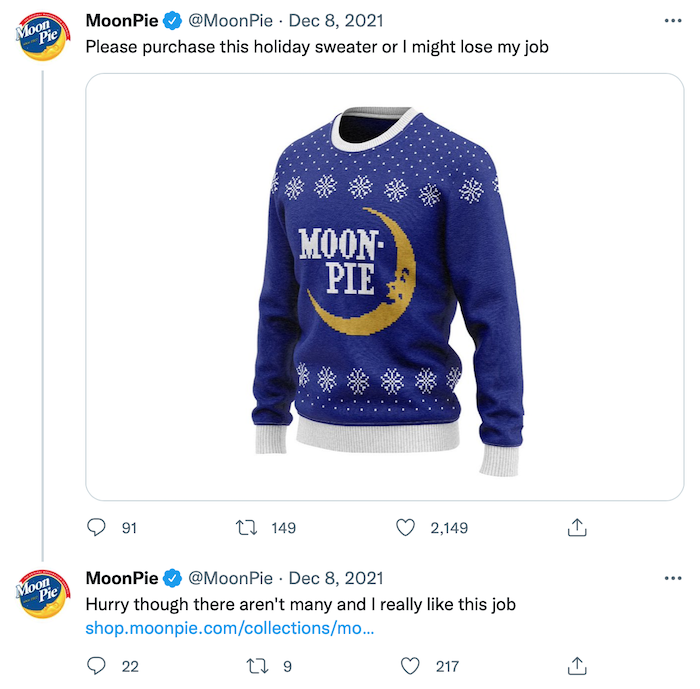 Here's another example. Rather than just posting a product link, the social media manager appeals to followers with a quirky tone: