Backlinks: Your Free Link Analysis Tool
By Neil Patel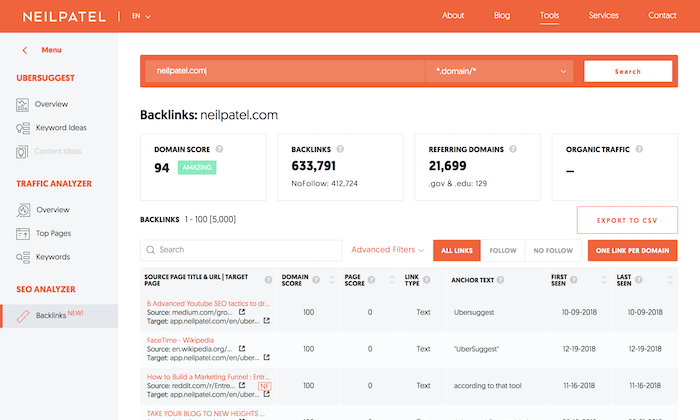 Please note that you may have to clear your browser cache to see the latest version of Ubersuggest.
Do you want to know how many people are linking to you? Do you want to find more link opportunities?
Well, I created a free backlink tool that will allow you to do that (and much more).
I decided to call it Backlinks.
And, as you may have guessed, I integrated it within Ubersuggest so that way you can do more within one simple tool.
Here's how Backlinks works…
How Backlinks works
The first step is to head over to the Backlinks landing page and type in a URL or a domain.

You'll then want to select the type of backlink report you want to pull up.

As you can see, there are 3 main options:
URL – this report will pull backlink information ONLY for that specific URL.
Domain/* – this report will pull backlink information for that domain EXCLUDING subdomains.
*Domain/* – this report will pull all backlink information for that domain, including any subdomains. This option will typically give you the biggest backlink count number.
Once you figure out what type of query you want to run, select that option and hit the "Search" button.
The Backlinks report
At this point, you'll see a report that looks something like this:

This report will show you the domain score (the authority or a domain), the total number of backlinks, how many of them are follow versus nofollow, number of referring domains, .edu and .gov backlink count, and the estimated organic traffic a domain and URL receive.
In essence, you can get a quick overview of how you are doing versus your competition in seconds.
Link analysis
When you pull up a Backlinks report, you will also see a full list of URLs linking to a website.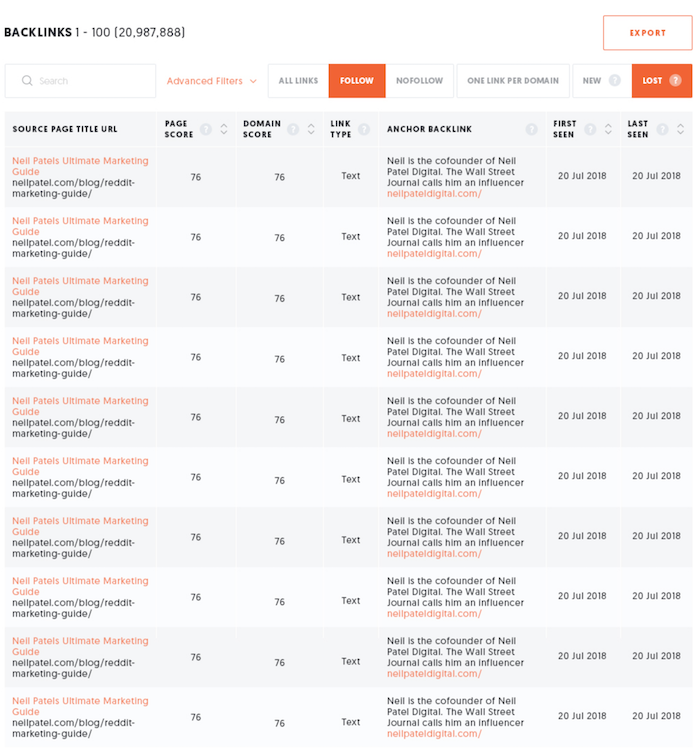 By default, it shows one link per domain to make the report more useful. That way if someone links to you 100 times, you'll see the best link from that site.
If you want to see all 100 links coming from the same site, unclick the "one link per domain" button.
In general, assuming the URL or domain you just pulled up has a lot of backlinks, you'll see thousands and thousands of links.
In each row, you're provided with:
Source title – what is the title of the page linking to URL/Domain you looked up.
Target page – where the link is pointing to. If you are looking up a URL, then it will be pointing to that specific URL. If you looked up a domain, you can see where their link is pointing to on that domain.
Domain score – how authoritative is the linking site? The higher the number the better.
Page score – how authoritative is the linking page? The higher the number the better.
Link type – is an incoming link through an image or a text link?
Anchor text – does the link contain any keywords? You can easily see this …read more

Source:: Kiss Metrics Blog