Best Cheap Web Hosting
By Neil Patel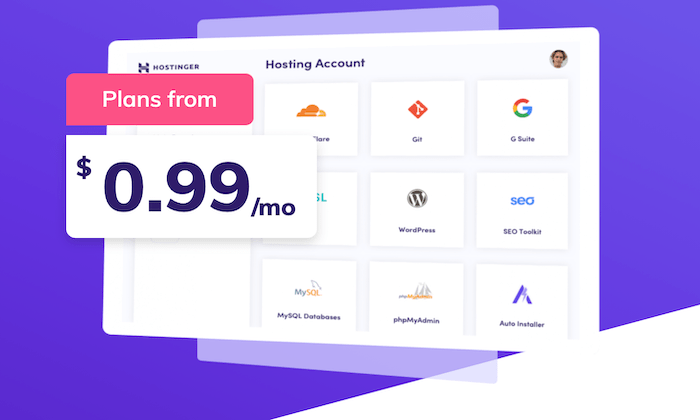 Disclosure: This content is reader-supported, which means if you click on some of our links that we may earn a commission.
Do you want to skip the read and get right to my top picks? The best cheap web hosting service for most people is Hostinger or Bluehost.
If you're launching a new website, there's no reason to pay a fortune for web hosting. There are plenty of cost-effective solutions available on the market for you to choose from.

Small websites, personal blogs, and other newer websites can definitely get away with a cheap web hosting plan.
But with thousands of web hosting providers to choose from, finding the best option for your site can feel like a tall task.
Fortunately, you won't actually have to search through thousands of plans. There are really only one or two dozen reputable web hosts to consider. That list gets even smaller if you're looking for a cheap web hosting plan. For those of you on a tight budget, these are my top picks:
The Top 6 Options For Cheap Web Hosting
What I Looked at to Find the Best Cheap Web Hosting
You're looking for the cheapest plan out there, but you still need a dependable host.
There's no shortage of budget-friendly web hosting options available. Each one promises great uptime, site performance, and customer support.
It seems like anyone can get their site up for less than the cost of a cup of coffee.
What's the catch?
If you understand your options and pick the right one, there is no catch.
I'm going to guide you through saving every dollar possible without getting scammed or locked into a plan that you'll regret later.
Use these four criteria to cut through the advertising gimmicks, rule out plans that are "too good to be true," and hone in on the best deal for lowest price.
Price
When looking for web hosting in general, price is pretty important. But in looking at cheap web hosting, I've made pricing the most important criteria by far.
In other words, I asked myself: How can I get dependable hosting at the absolute lowest price?
Since you have to pay for hosting each month, even a few dollars' difference between plans will add up over time.
I focused on web hosts with a rock solid reputation because their cheap hosting options don't cut corners. These plans are no-frills hosting, for sure, but I made sure they cover all the essentials.
With some of the less reputable hosts out there, you can get a rock-bottom price and a rock-bottom experience.
The providers I chose …read more
Source:: Kiss Metrics Blog