How to Get More Followers on Instagram: A Guide to Earning Your First 1,000 Followers
By lkolowich@hubspot.com (Lindsay Kolowich)
You might already know that Instagram is a growing channel that lets individuals and businesses alike expand their brand. For businesses especially, it's a way to humanize your brand, recruit future employees, showcase your product and company culture, delight customers, and generate new business.
But here's the deal: Unless you're famous, it's really hard to amass a huge following on Instagram without some hard work. For the average person or business, growing your following takes time and attention on a daily basis.
Luckily, there are a few things you can do right away to collect at least 1,000 quality followers for your personal or professional Instagram account. It's all about knowing where to invest your time and effort — which is exactly what we'll show you in this post.
Let's go through how to gain those first 1,000 followers, from creating a follow-worthy Instagram profile to using contests to staying true to your brand. (Looking for inspiration? Read this blog post to browse through 16 of the best brands on Instagram.)
Wait … Why Not Just Buy Followers?
You might be thinking to yourself: Why not get the ball rolling by swiping a credit card and buying your first followers?
Well, purchased followers are either fake or low-quality profiles — so they really serve no purpose except to artificially inflate your follower count. Don't count on any meaningful interaction from these folks.
Followers you earn are the people who will Like your photos, click the links in your bio, learn more about you and your business, share your photos, and maybe even do business with you in the future. These are the types of followers the tactics in this post will help you gain.
How to Gain Your First 1,000 Followers on Instagram
1) Create and optimize your profile.
First thing's first: Customize your Instagram profile to make it look good, tell your potential followers who you are, and give them a reason to follow you.
How? Start by making sure your username is recognizable and easily searchable — like your business name. If your business name is already taken, try keeping your business name as the first part of your username so that people searching for your business are more likely to come across you. For example, the Australian activewear line Lorna Jane uses the username @lornajaneactive.
(Note: Make sure to add your full business name to the "name" section in the "Options" section — the gear button on iOS, or three dots on Android). This will appear under your profile picture and under your username in search.
Next, make sure your profile is public. To make your profile public, open Instagram, open "Options," and make sure "Private Account" is turned off.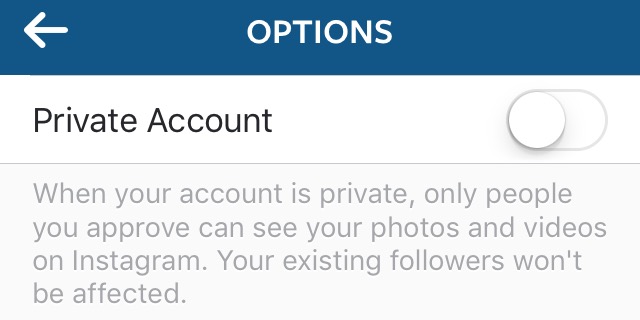 Next, choose a profile picture that's on-brand with your other social networks, like your company logo.
Then, fill your bio …read more
Source:: HubSpot Blog