How to Meet People Who Are Smarter Than You: 16 Marketing & Tech Events to Attend in 2016
By lye@hubspot.com (Leslie Ye)
"If you're the smartest person in the room, you're in the wrong room."
It's a good principle to live your life by. Although being the smartest person in the room is a nice ego boost, you need to surround yourself with people who have skills and specialties you don't if you want to grow — in short, people who are smarter than you.
One of the best ways to break out of your daily routine and try your hand at learning something new is to attend a conference. Not only do you have access to thousands of other ambitious, hardworking professionals in an out-of-the-office environment, but you're also sure to pick up a new hack, tip, or trick.
You can't go to just any old conference, though. That's why we've handpicked 16 events that'll gather the best and brightest in marketing, tech, and innovation for you to learn from.
16 Events You Should Attend in 2016
What:
An Event Apart is brought to you by the folks behind design publication A List Apart, and brands itself as "the design conference for people who make websites." Designers, developers, marketers, content creators, and project managers come together for three days of talks and workshops. The Seattle edition of An Event Apart features sessions on the evolution of coding and accessibility, the intersection of physical and digital design, and "compassionate design" — design that emphasizes the real user experience, not an idealized one.
When & Where:
April 4-6, 2016: Seattle, Washington
May 16-18, 2016: Boston, Massachusetts
July 25-27, 2016, Washington, D.C.
August 29-31, 2016: Chicago, Illinois
October 3-5, 2016: Orlando, Florida
October 31-November 2, 2016: San Francisco, California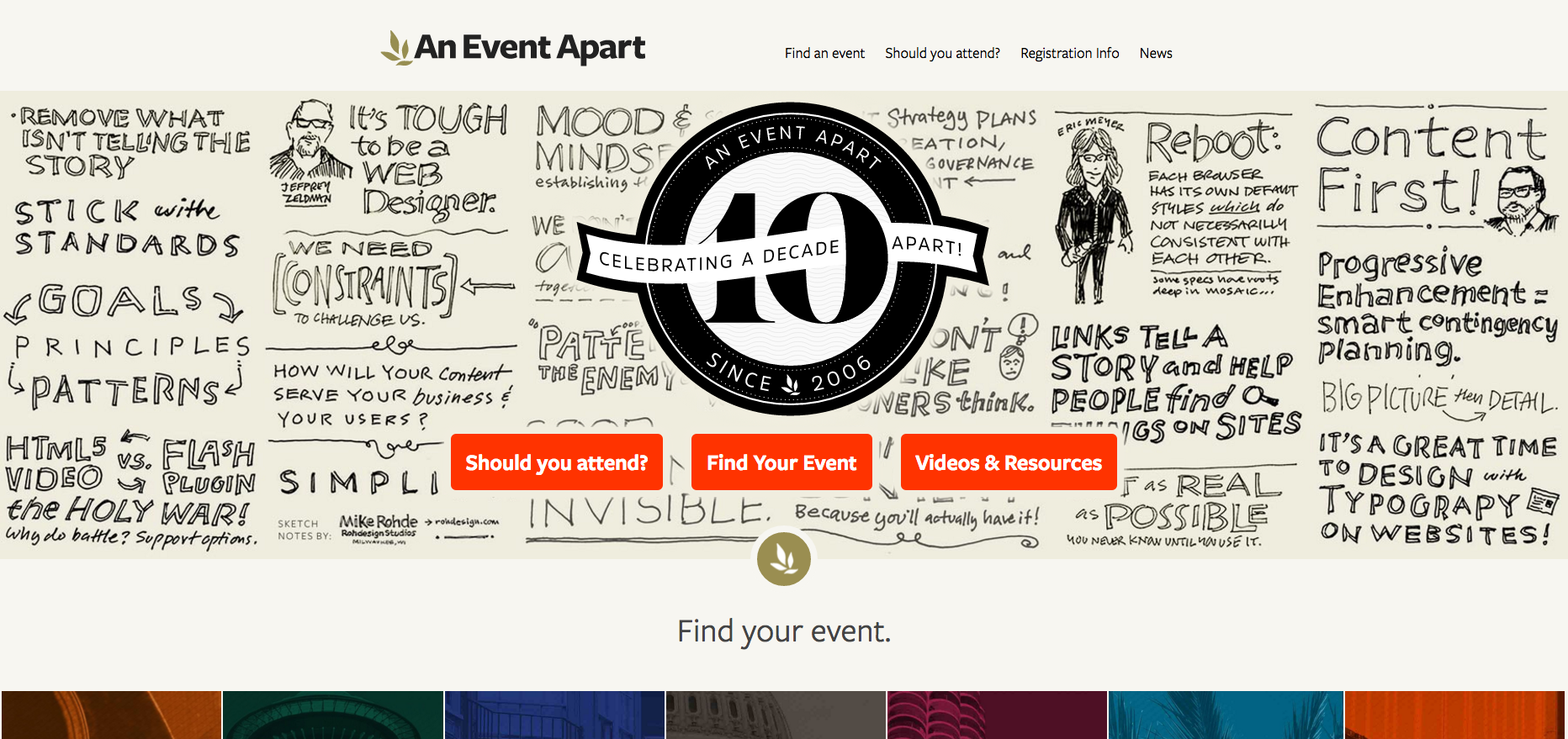 What:
The CMO Club is a global organization of 850+ heads of marketing. Their spring summit brings together their membership to discuss CMO-specific challenges and provide guidance on modern marketing and team development. This year's speakers include Dell CMO Karen Quintos, GE CMO Linda Boff, and Target CEO Jeff Jones.
When & Where:
April 5-6, 2016
New York City, New York
What:
Ad Age's annual conference explores the future of marketing and advertising each year. 2016 is the conference's 10-year anniversary, and this year attendees will look ahead to the future of advertising, the rise of technologies that subvert traditional marketing (think ad blocking), and how to engage with consumers on their own terms. Speakers include Medium and Twitter co-founder Ev Williams, Procter & Gamble Chief Brand Officer Marc Pritchard, and BuzzFeed CMO/Chief Creative Officer Frank Cooper.
When & Where:
April 5-6, 2016
New York City, New York
Source:: HubSpot Blog