How to Use Events to Optimize Your Facebook And Google Ads
By Neil Patel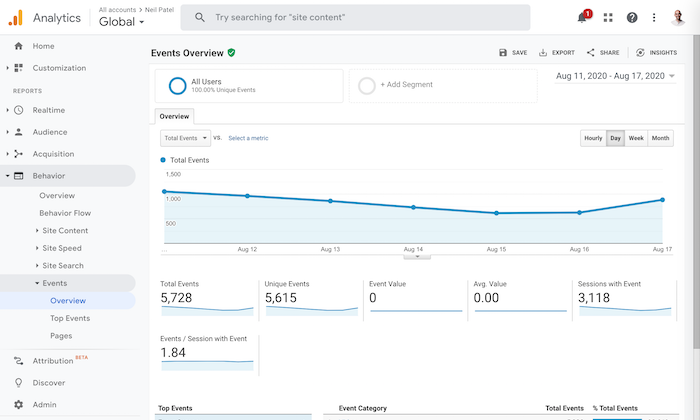 Your website is bustling with activity. Visitors are constantly interacting with it.
But are you taking full advantage of everything that's happening on your website for your paid marketing?
Every interaction a visitor has with your website… a pageview, a click… can be used to better understand your audience.

And when you understand your audience you can target them in a smarter way, and get more bang for your buck from your paid campaigns on Facebook and Google.
Both Facebook and Google refer to these user interactions as Events. They allow you to track them using a tracking code installed on your website.
What Are Events?
Events are user interactions that don't involve loading another page on your website.
In e-commerce, the prime example of an event is Add to Cart.
Another event can be filling out a field in a form, as opposed to a form completion that usually triggers loading a "thank you" page. Filling out one or more fields without submission (also known form abandonment) can also be recorded as an event.
In essence, you can record any action a user makes as an event, such as watching a video, clicking on a link, or even downloading a PDF.
Why Events Are Important
Events are important because they indicate the intent of your website visitors and which ones are more likely to become a customer or a lead.
If a visitor watched a video on your website, it demonstrates an interest in your offering.
In e-commerce, even if a visitor did not complete a purchase, an abandoned cart shows a high purchase intent. Sure, something has prevented the visitor from completing the purchase, but any visitor who got that far is worth your attention.
By tracking events you'll be able to make a more focused offer to these users in your paid campaigns.
How you may ask?
By injecting the events tracking data into your paid campaigns and using this data for more precise targeting and an optimized offering.
Think about it, if you can group together all the visitors who watched a certain video and set up a customized campaign for them that referenced what they saw in the video, wouldn't that make for a far more effective campaign than a generic awareness message?
It sure will.
Let's discuss how you can use event tracking to get more out of your ad campaigns on Facebook and Google.
How to Set Up Events on Your Website
With both Facebook and Google, you'll need to use code for setting up events on your website.
So lets go over how you do that…
Setting Up Events Using Facebook's Pixel
Standard events on Facebook include:
View content
Search
Add to cart
Add to wishlist
Initiate checkout
Add payment info
Make purchase
Lead
Complete registration
Here is the official Facebook guide for setting up events.
First, you need to verify that you already have the Facebook Pixel code embedded in the header code of every page of your website, between the and tags. If you don't, first go ahead and insert the base Pixel code.
Next, select the event that you wish …read more
Source:: Kiss Metrics Blog