How to Use LinkedIn's Social Selling Index Like a Pro
By Neil Patel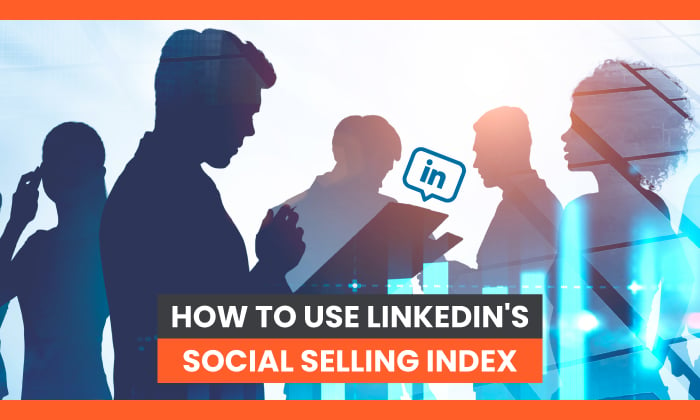 LinkedIn is a perennially underrated social media platform. It's not always easy to quantify how effective you are on the platform though. Enter LinkedIn's Social Selling Index.
This handy metric tells you exactly how effective you are as a social seller while highlighting how you can improve. In this article, I'll cover everything you need to know about the tool, how to use it properly, and how to improve your score.
What Is LinkedIn's Social Selling Index?
Launched in 2014, LinkedIn's Social Selling Index (SSI) measures how effective you are at social selling on the platform.

LinkedIn uses four factors to calculate your SSI:
establishing a personal brand
finding the right people
engaging with insights
building relationships
Each factor is worth 25 points. Complete them all, and you'll get a perfect score.
There are several reasons to aim for a high Social Selling Index. For starters, a high score increases your reach on the platform. Even if the LinkedIn algorithm doesn't directly take your SSI into account when determining the reach of posts, all of the individual factors that go into calculating your SSI help you reach a wider audience.
A high SSI can also result in more connection requests and more people following you—which establishes you as a thought leader in your industry and makes it easier to connect with decision-makers.
LinkedIn provides data to back up some of these claims. According to their Social Selling Index page, leading social sellers create 45 percent more opportunities than lower social sellers and are 51 percent more likely to reach quota. In addition, 78 percent of them outsell peers who don't use social media.
How to Find Your LinkedIn SSI Score
It's simple to find your SSI on LinkedIn. If you're already logged into LinkedIn, follow the link below to see your score.
Find your Social Selling Index.
You can also access your SSI through Sales Navigator by navigating to Admin and clicking User Reporting.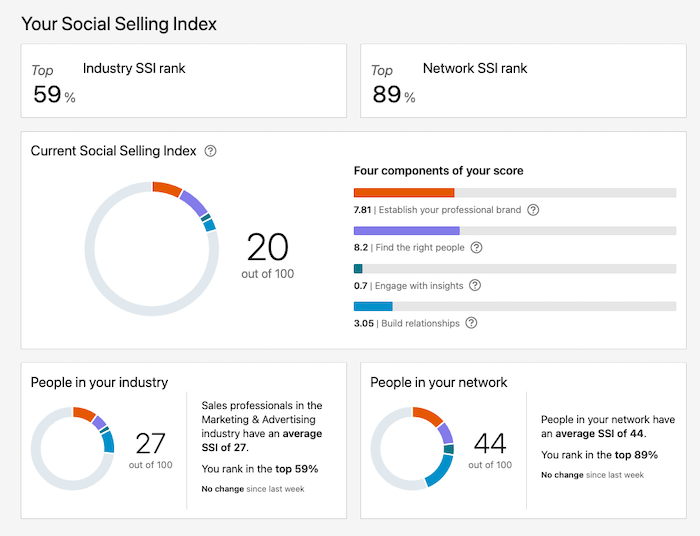 Key dashboard information to pay attention to includes:
your SSI score
the score for each of the four components
how your SSI compares to your industry
how it compares to your network
We'll discuss what each of these metrics means in detail next.
LinkedIn Social Selling Index Metrics
As I mentioned above, LinkedIn uses four factors to calculate Social Selling Index: establishing a personal brand, finding the right people, engaging with insights, and building relationships.
But what do each of those metrics actually mean?

Here's what you need to know.
Establishing a Personal Brand
For this metric, LinkedIn looks at how complete your profile is and the quality of the content you post on the platform. Do you have a cover photo, a complete job history, and recommendations? How many posts are you creating, and how many views …read more
Source:: Kiss Metrics Blog