Shopify Vs. Wix
By Neil Patel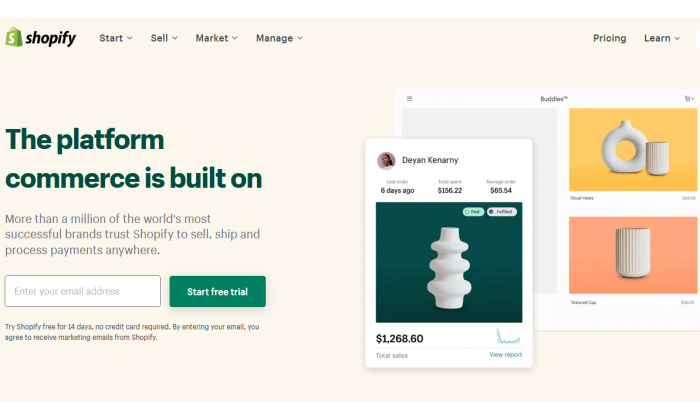 Disclosure: This content is reader-supported, which means if you click on some of our links that we may earn a commission.
As an ecommerce seller, you'll find yourself making a lot of choices.
Is the clothing niche more profitable than accessories? Which theme would be better: Wokiee or Porto? Is Shopify better than Wix, or is it the other way around?
Of all the questions, choosing the best ecommerce platform remains the most crucial. Although Shopify and Wix have overlapping features, Shopify edges forward in the race if you're specifically looking for ecommerce functionality.
Still, it's a close call between the two that boils down to your intent. Small businesses or brand-conscious entrepreneurs will love Wix with its easy-to-use, cheap features, and greater design flexibility.
But if you want a powerful online store, Shopify can do a lot more. So long as you've got a bigger budget and the technical knowledge to flatten the learning curve, Shopify is going to be the better long-term ecommerce solution.
Shopify or Wix: Which Is Better?
Shopify is a solid option for ecommerce applications with its fully responsive templates, AMP support on product pages, and dropshipping features. It also supports multi-currency selling functionality and offers useful integrations with other essential apps.
Overall, it's a more professional choice for anyone who wants to build an online store. If this is exactly what you're looking for, make sure you sign up for a free trial ASAP.
Wix has a drag-and-drop interface and a wide range of bundled templates, making it a great choice for those who want to build a general-purpose website. It also comes loaded with page layout tools, data capture, and email marketing features.
Plus, it's cheaper, and you don't have to worry about paying transaction fees. Ready to check out Wix? Give it a try with a free trial.
A Review of the Best Ecommerce Platforms
Shopify and Wix are hardly your only two options for starting an online store, and you owe it to yourself to look around.
My team reviewed dozens of ecommerce platforms and narrowed them down to the eight best options that tick off all the right things on an ecommerce seller's checklist. Wix and Shopify both made the list.
Head over to my best ecommerce platforms guide for an in-depth look at where every product stands, along with a buyer's guide to help you navigate your options.
Shopify Wins
Useful Ecommerce Features: As it's specially designed to be for ecommerce, Shopify sites come with many useful ecommerce features to cover every little aspect of the sales process. It has multiple payment gateways, inventory management tools, third-party platform integrations, and shopping carts. The platform is also scalable, allowing you to grow with your expanding business needs.
Fluid Themes and …read more
Source:: Kiss Metrics Blog