The 5 Best Marketing Automation Companies of 2021
By Neil Patel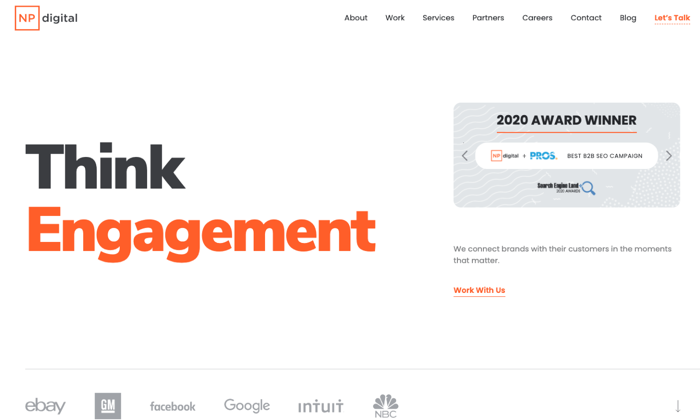 You could get a marketing automation tool and try to figure it out yourself.
Or you could get a marketing automation company to do everything.
Look, marketing automation gets crazy complicated.

Lead routing, lead tracking, campaign measurement, all the emails and landing pages, lead nurturing, dozens of segmentation lists, it goes on and on.
Not to mention a deep integration with your CRM which has to work flawlessly.
Your entire marketing program depends on getting marketing automation right.
The best sales teams already work with top Salesforce partners to get everything set up from the beginning.
It's about time that marketing teams followed their example.
Don't just look for a marketing automation tool, find a marketing automation company (agency) that can help you with everything.
The 5 Best Marketing Automation Companies
Some of us in that marketing automation companies are:
Let's dive into each.
#1 Neil Patel Digital – Best for Content Marketing Automation
If there's one digital advertising channel that cuts across all others, including automation, it has to be content marketing.
I'm not here to remind you that content is king. You already know!
Even with marketing automation, content marketing drives everything. You need the right content in the right emails to keep leads moving down the funnel.
Tons of billion dollar startups have built their sales and marketing process around content. And it works beautifully.
And it's an area my team at Neil Patel Digital shines the brightest.
How?
We've rolled out content programs for the entire sales cycle across many Fortune 500 brands.
I truly believe we're one of the best companies at content, period.
If you'd like content marketing and marketing automation working together seamlessly, we should chat.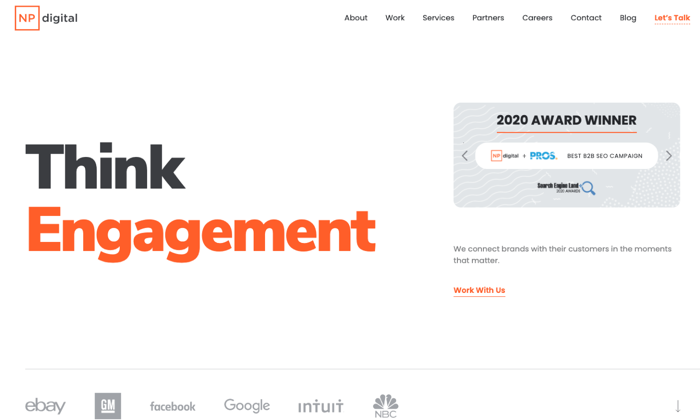 #2 LeadMD – Best for Tech Stack Integration
Marketing automation frees you (and relevant people on your team) from mundane tasks.
For example, say someone signs up to download a whitepaper on your landing page.
They fill out the form fields, your CRM collects this data, creates tags based on the info provided, and segments them into relevant email lists.
That email sequence could include 180 days or branching email logic based on their actions and sales stage.
For this to work well, you'll need tight integrations between your:
Marketing automation tool
CRM tool
Landing page tool
Software trials and accounts
Ecommerce accounts
Subscription settings
Customer support tools
Deduplication tools
And dozens of small tools that impact your users.
If that sounds like a lot, that's because it is.
These systems get extremely complicated very quickly.
You'll need a team that knows how to get everything working together. One broken link in the chain could dump thousands of leads by accident, costing you hundreds of thousands of dollars. I've seen it happen countless times.
LeadMD specializes in setting up these types of integrations: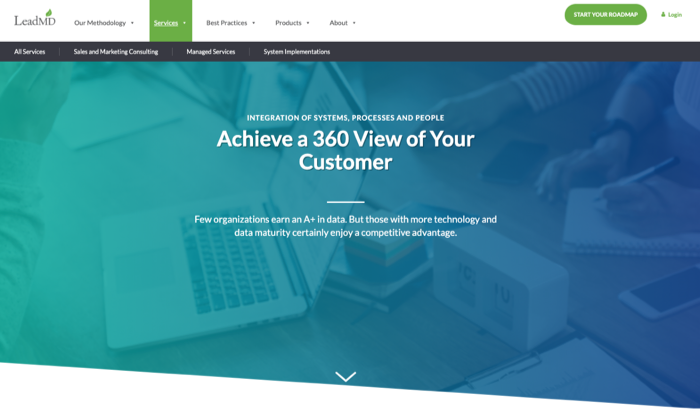 LeadMD is the go-to marketing automation company …read more
Source:: Kiss Metrics Blog